The Security Jam — Log on to the online Global Security Brainstorming with leading experts & decision makers
Date:
4/2/2010 (All day)
-
9/2/2010 (All day)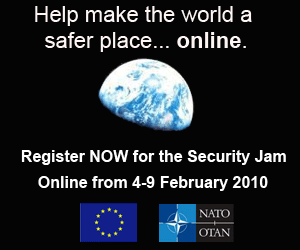 What is the Security Jam? A virtual conference featuring online keynote contributions from world leaders and participants like you logging on from around the world. NGOs, civil society, security & defence practitioners, leading political and military figures, think tanks, academics and journalists will interact online, from anywhere in the world, to build concrete solutions together.
What is the ultimate goal? The results of the Jam will include key recommendations and innovative ideas on how to make our world a safer place. They will be presented to the leaderships of the EU and NATO, among others, at an official event in April 2010. This influential report will also be sent to 50,000 people. These decision makers are eager to hear your views at a time when a great deal of strategic thinking is taking place.
Who else is taking part? Several thousand people around the globe are expected to join our VIPs, who include:
Ambassador Kai Eide, United Nations Special Representative to Afghanistan
Admiral James Stavridis, NATO Supreme Allied Commander Europe
Josette Sheeran, Executive Director, United Nations World Food Programme (WFP)
General Håkan Syrén, Chairman, European Union Military Committee
Carl Bildt, Foreign Affairs Minister of Sweden
Professor Paul Collier, Oxford University author of The Bottom Billion
General Henry Anyidoho Special Representative for the AU-UN Hybrid operation in Darfur
Jaap de Hoop Scheffer, Former Secretary General of NATO
For a full list, please visit www.securityjam.org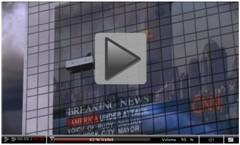 How do I get involved? You need to register NOW. The Security Jam is only accessible through accreditation in advance. Register at www.SecurityJam.org to ensure you can participate.